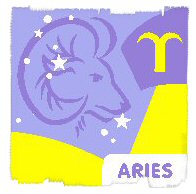 Aries Horoscope
Basic Characteristics Profile


Aries zodiac sign is ruled by the planet Mars. Individuals born under this sun sign are usually of medium height. They dislike domination and cannot stand being subordinate to anyone. In fact, they prosper more when they are self-employed. Aries individuals are prone to short-temperedness. But, their anger cools down as quickly as it comes. Such people are very courageous and hard working. They have much more chances of attaining success as well as happiness in their homeland, rather than in some foreign country.
Aries people may take some time to be successful in worldly matters, but they have very bright chances of receiving honor, fame and fortune, sooner or later. They will be more interested in careers like sports, armed forces and police. Machines, inflammable products and metals tend to fascinate them very much. Their philosophy and religious thoughts are quite different from those of other people. People born under Aries sun sign are self made and hardly rely on others for moving ahead in their life.
General Astrological Predictions for Aries in 2008 - 2009


Jupiter will remain in the ninth house throughout the year (2008). This will lead to exceptional success in the field of education. If you are planning to sit for any competitive exam, the chances of success are quite high. The planet Saturn, on the other hand, is likely to remain in the fifth house for the whole year.
Wealth, Career and Business


As far as the matters of wealth, career and business are concerned, the year 2008 is very lucky for Aries. Because of the favorable position of the planet Jupiter, you are likely to receive promotion in job and success in business. For those engaged in service or politics, there are chances of receiving fame, respect, honor and recognition. You may also be rewarded with important positions and much more authority than what you are presently enjoying. In the month of June, Mars and Ketu will be in the fourth house, which may lead to mixed results. You need to be a little wary of friends and relatives too, as there are chances of being deceived by a close one.
Health


In case of health matters, Aries will enjoy a good 2008. The only time you will need to take extra care of yourself will be the months of June, July and November. There may be chances of getting injured or undergoing a minor operation. You may need to visit a doctor therefore it is advised to exercise caution!
Love Matters


Aries individuals have a fiery spirit, tend to be quite attractive and have all the qualities of becoming a leader. This year, you will experience success in the matters of heart. There are all the chances of your moving into a love relationship. The months of July, October and November are not good for any kind of relationship. You may get deceived by a person of the opposite sex. So, please beware.
Travel


There are indications of undergoing some amount of travel. In case you are looking for overseas travel, don't expect to be gone for a long time. The trip has more chances of being a short one. From January to April, Mars will be in the third house and in December, Sun, Mars and Mercury will be in the eighth house. This will increase the chances of traveling. However, the best time for journey will be December.
Domestic Life


You will have a very happy and contented domestic life this year. From family point of view, this year will be just perfect. The family members will come closer to each other and will enjoy enhanced cooperation amongst themselves. Saturn will be in the fifth house, so the chances of having a new member in your family (baby) are not too bright. You may face minor physical ailments. Parents may encounter some troubles at the hands of their children.

Courtesy of

Iloveindia.com



Its really great to know about this one!... I just do hope that this year will turns out to be the best as I have so many plans to pursue!. Wish me luck guys!... Have a great year ahead!...c",)